Fun Halloween Bubble Teas: A Real Treat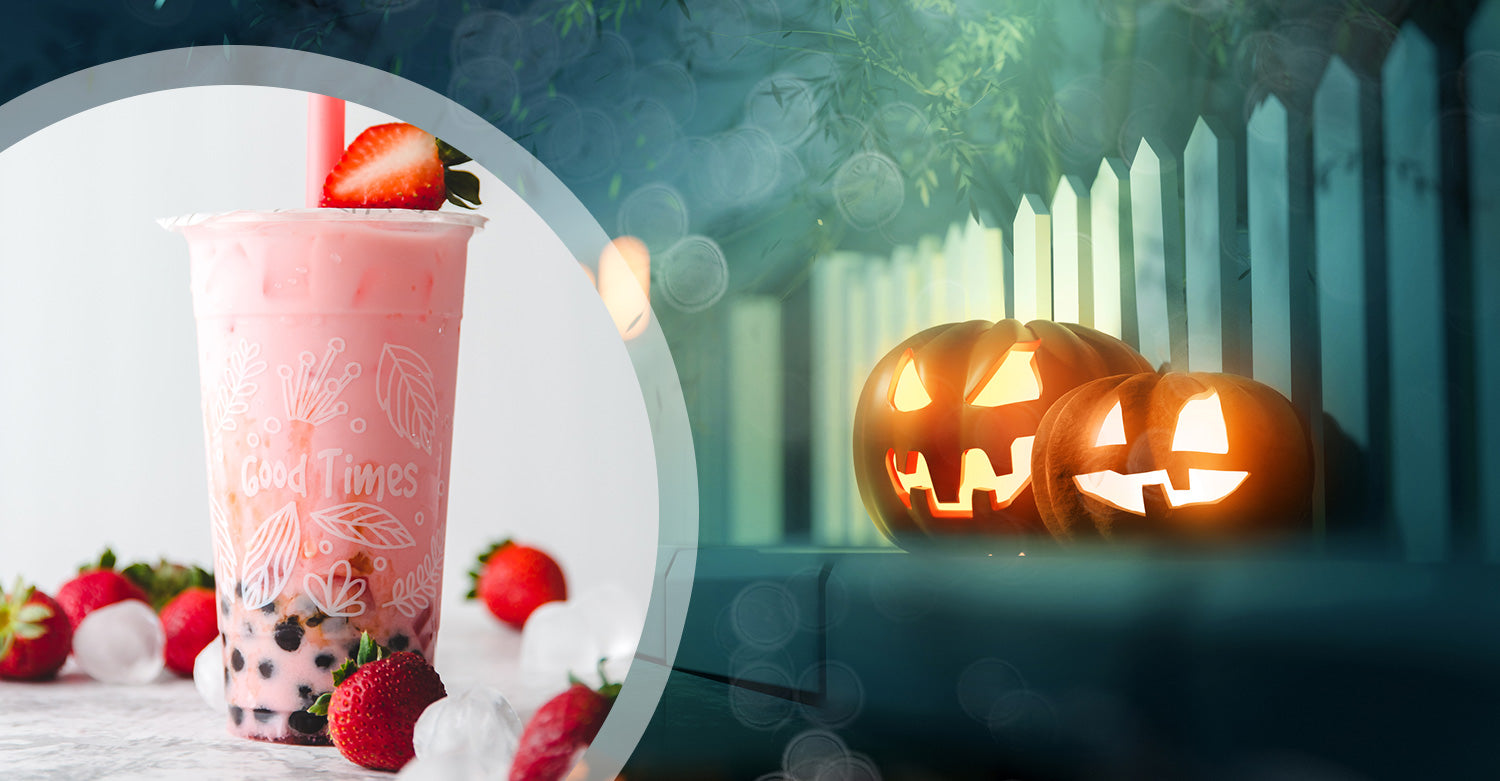 Halloween began as a night for pranks – no treats. Costumes, Jack-O-lanterns and candy snuck into the mix somewhere along the way. It's the third favorite national holiday. Over one-third of the American population will throw a party or get together with friends and/or family. If you are one of those, you'll want to serve delicious treats – like these boba drinks. In the event you're going to treat yourself to a little alone time, you'll definitely want to prepare a special boba tea for the occasion.
Frankenstein Fruit Tea Boba
Halloween wouldn't be Halloween without good ole Frank. The story dates back to the novel with the same name that was first published in 1818. Frankenstein was a invented by a scientist who succeeded in giving life to a product of his imagination. But, things went terribly wrong. Whether you side with Frank being a hideous creature or have a soft spot in your heart for him, the result is the same. Thousands of children tell tales of Frankenstein every October 31 and many dress in Frank costumes too. The least you can do is celebrate him with a Frankenstein Fruit Tea Boba. Btw, it's delicious!
Side Note:
Strawberry popping boba are relatively new and are ideal for children and are delightful for adults who love to savor the flavor as well. They make the perfect surprise at the bottom of this green drink.
Green apple juice makes this drink fantastically frightful. It is quite yummy too. Be sure to use juice that is created especially for boba drinks for the best results.
Ingredients
Prepared strawberry popping boba
Green apple juice (mix according to directions)
4 – 5 Tablespoons of whipped cream
4-5 ice cubes
Instructions
Prepare the green apple juice
Place juice in blender with whipped cream.
Add the cubes of ice.
Blend the ingredients.
Place strawberry popping boba in the bottom of a cup.
Pour the green apple juice onto the pearls.
Serve cold.
Add more whip cream on top.
Enjoy!
Witches Brew Boba Tea
Hold onto your pointed hat! Grab your broom and a cup to fill with this amazing boba tea beverage that is sure to send you into the clouds. Made with delicious mango Black tea, the black chewy pearls put the final touches on this spellbinding potion.  
Side Note:
Black tea is a favorite for making boba tea. It is rich and goes well with many boba syrups. Black tea is known to be loaded with antioxidants and has been used throughout the ages medicinally. Most of all, it tastes great and won't disappoint when used in this witchy boba beverage.
Ingredients
Prepared tapioca pearls
Drinking water
Black tea
1 cup of Heavy cream (tinted green if desired)
Instructions
Boil the water according to the amount suggested with the tea.
Steep 7 minutes.
Add the syrup.
Pour the mixture onto the tapioca pearls.
Whip the cream.
Top the drink with dabbles of cream.
Enjoy
Purple People Eater Boba Drink
What could be scarier than a one-eyed purple people eater? This drink is so delicious, children love it too. If you have a Halloween mist machine, now is the time to pull it out of the attic. If not, you can make do with other spooky props.
This fun boba tea is best served in festive Halloween mugs with a super large green or purple straw.
Side Note:
Taro powder gives this purple drink its rich color. It also makes it ooze with nutrients but…shhhh…don't tell the kids! Taro milk tea powder is a great source of fiber which helps the digestive system and also promotes strong immunity. Taro is a product of Southeast Asia. It's a tropical plant that produces a starchy corm that is used to make the powder. The outer skin is brown, but the inside is white with purple streaks and is fabulous when cooked but lethal eaten without cooking.
Ingredients
Prepared tapioca pearls
4 cups drinking water
3 - 5 green tea packets
1 can sweetened condensed milk
Taro powder (according to directions)
Instructions
Boil the water.
Steep the tea 5 – 7 minutes or according to the directions.
Blend in the sweetened condensed milk.
Blend in the taro powder.
Place tapioca pearls in the bottom of the cups.
Pour the mixture over the boba.
Enjoy!
Recent Post