Boba Cocktails (Yes, it's a Thing!)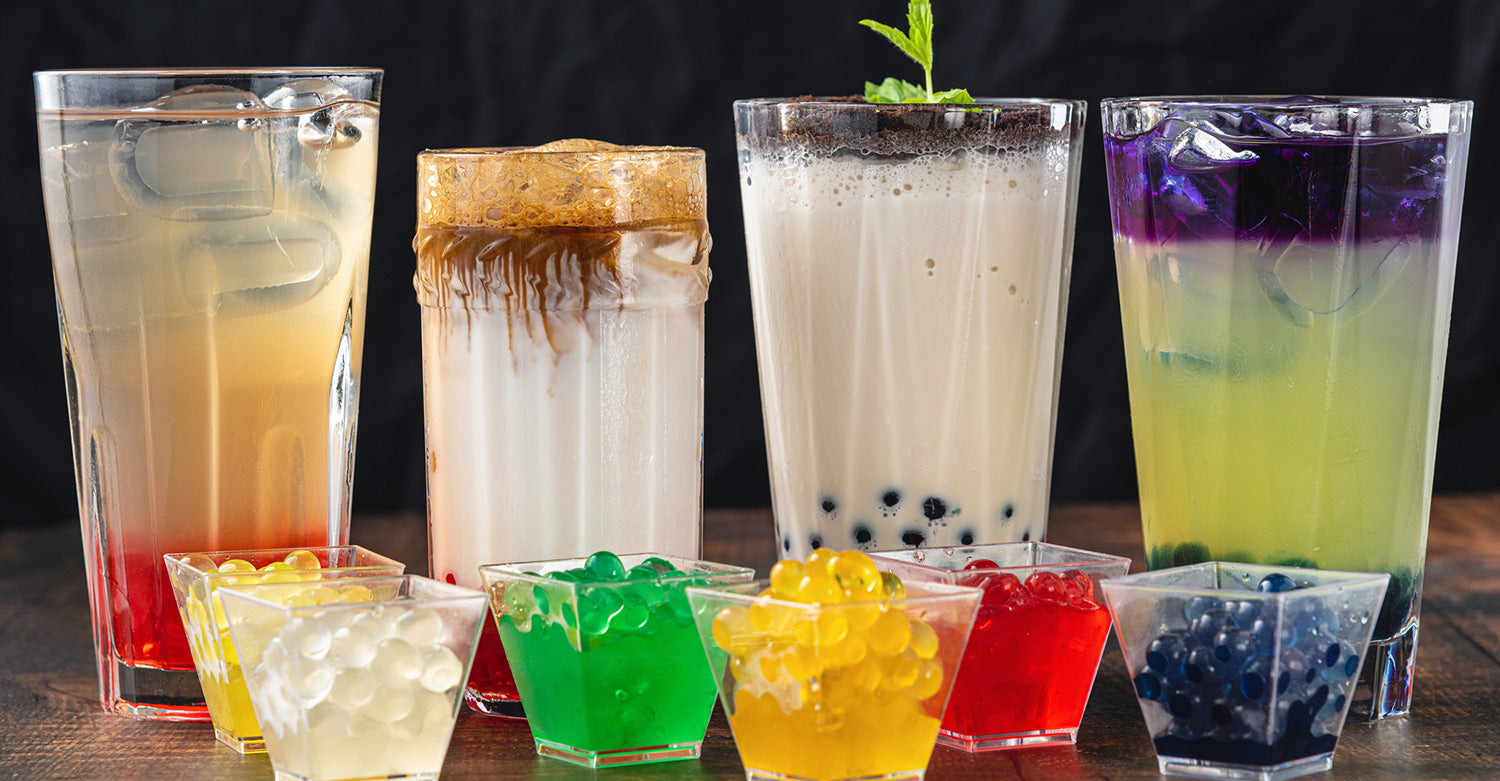 Boba Cocktails (Yes, it's a Thing!)
You've heard of boba teas and maybe you've even had one or made one yourself at home. But did you know you can enjoy the tapioca bubbles in adult beverages too? You sure can and they are so delicious, you can even skip the liquor if you're not into indulging.
Perfect for dinner parties, weddings, or practically any other event or occasion, boba cocktails are fun and fabulous. They can perk up a boring get-together, make a party fancy, or bring out the kid in all of us. You see, boba beverages are multi-talented like that.
Boba Kahlua Alcohol Beverage
This drink is akin to the famous coffee Kahlua drink but with a twist – the chewy bubbles at the bottom of the cup which is a wake-up all its own. It's perfect to warm you up on cozy Autumn evenings after a soak in the hot tub or a bubble bath and is also fabulous to serve at gatherings with friends or family. And don't forget this chewy coffee-like sensation when planning for the holidays.
Side Note:
Kahlua is available in most liquor stores. It's a coffee liqueur that contains arabica coffee, sugar, and rum.
Ingredients
Prepared tapioca pearls
Drinking water
Black tea
Kahlua to taste
½ cup heavy cream, whipped
Instructions
Boil the amount of water the tea calls for.
Steep the tea for at least 5-7 minutes.
Add Kahlua to taste
Whip the heavy cream with a wire whisk.
Fold the whip cream into the tea and Kahlua mixture.
Arrange the boba beads in the bottom of a cup.
Pour the liquid mixture on top.
Use a wide straw or spoon to scoop the beads.
Enjoy and drink responsibly!
Fruity Boba Bubble Tea
This drink is so flexible, it's beloved by many who like to add a little zest to their boba drink. It's incredibly tasty and is a fun way to wind down a busy day or week and is also quite fitting for parties or special occasions. The green tea in the mix gives you a lift and sparks the flavor of the liquor and fruit combination and the bubbles at the bottom are like the icing on the cake.
Side Note:
Green tea is extremely healthy. It is used medicinally for everything from weight loss and headaches to prevention of cancer. Appreciated for its antioxidant qualities, green tea gets its color from an abundance of Chlorophyll.
Strawberry popping boba make this drink the main attraction at any cocktail party. They are fun and taste fabulous.
Ingredients
Prepared strawberry popping boba
Drinking water
4-6 packages of green tea
2 packages of strawberry or hibiscus tea
Liquor of your choice (vodka is a good choice) – to taste
2 ice cubes
Strawberry slices from 4-6 strawberries
½ cup half in half
Instructions
Boil the amount of water the green tea calls for.
Steep at least 6 – 7 minutes.
Boil the amount of water the strawberry or hibiscus tea calls for.
Steep 6 – 7 minutes.
Mix in vodka or liquor of your choice in the amount of your choice.
Blend in a blender with the ice cubes.
Whip the half in half.
Arrange strawberry popping boba in the bottom of cups.
Pour the liquid mix on top of the pearls.
Add the cream over the mixture.
Top with strawberry slices.
Serve with a large, wide straw.
Enjoy and drink responsibly.
Rum Boba Island Night Cocktail
Sometimes, you just need to escape the hectic day to day crazies. That's when this Rum Boba Island Night Cocktail tastes the sweetest. Whether shared with a special someone, a group of friends or family, or indulged in alone, this bubbly boba beverage will put the rum in your rumba.
Side Note:
Rum has been a favorite liquor for centuries. It is the oldest spirit know, dating back as far as the 1620s in the Caribbean. It was also the first alcohol that was consumed for reasons other than medicinal ones. Rum has been coveted throughout the ages and has even been the source of wars. Today, it's the perfect way to enjoy the wonders of boba tea.
Thai tea mix blends beautifully in this cocktail because it has a bold flavor that is derived from strongly-brewed Ceylon black tea that won't get overpowered by the rum. It's also loaded with antibiotic properties and other good things.
strongly-brewed Ceylon black tea
Ingredients
Prepared boba pearls
Drinking water
4-5 bags of Thai tea mix
Rum syrup
½ cup half in half or whip cream
Instructions
Boil the amount of water the tea calls for.
Steep 5 – 7 minutes.
Mix the rum syrup in according to taste.
Arrange boba beads on the bottom of the cups.
Pour the mix over the beads.
Whip the cream.
Pour on top.
Enjoy responsibly!
Recent Post