Top Three Boba Recipes for Fabulous Fall Flavor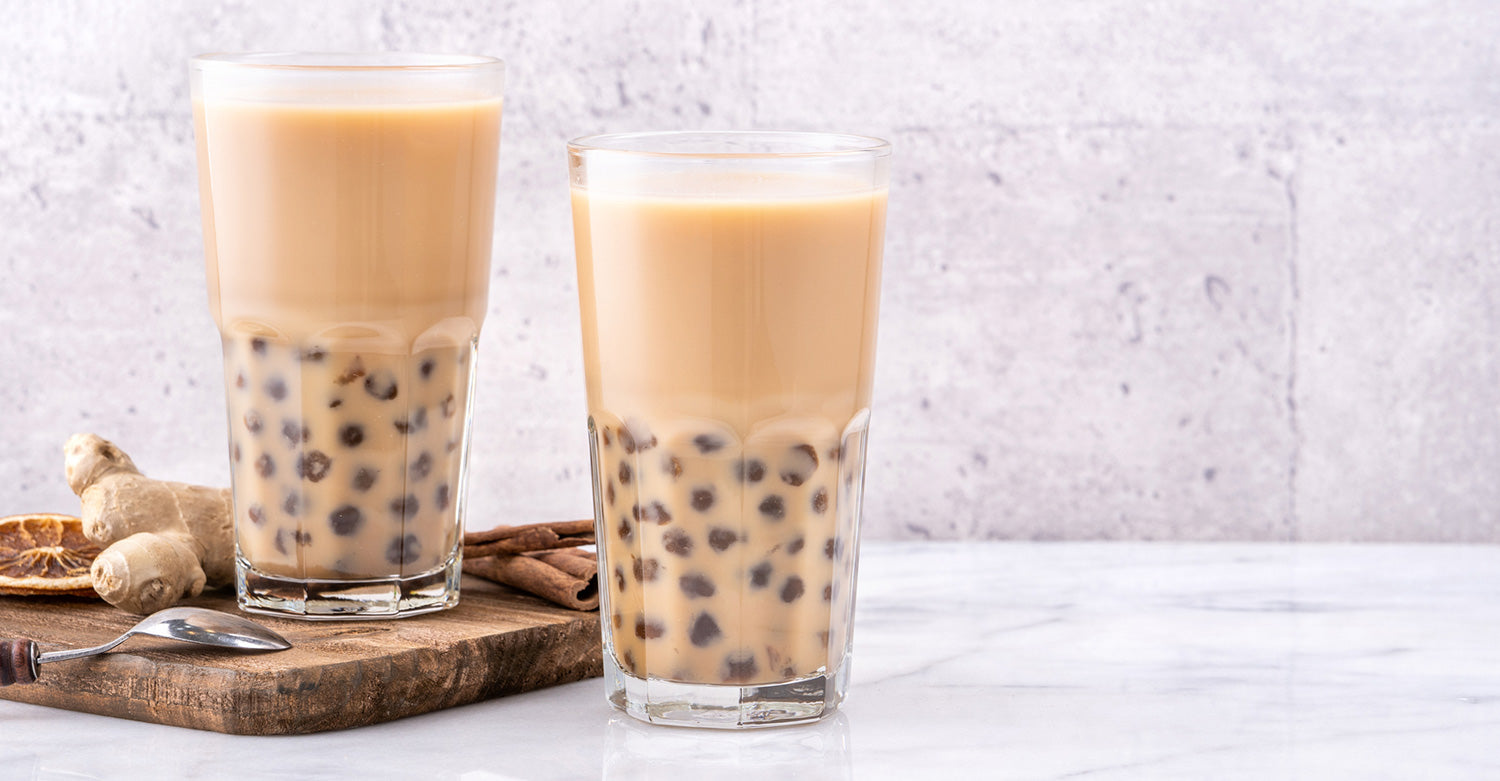 As summer is fading away, fall is right around the bend. There's something about fall that is simply glorious. Maybe it's the brisk cool air, the turning of the trees, or the feel of walking across crisp, crunchy leaves. Whatever it is, it's to be celebrated and what better way than a refreshing boba tea?
Here are some bubble tea recipes you're bound to fall head over heels for:
Almost Sinful Cinnamon Boba Milk Tea
Cinnamon and fall go hand in hand. The spicy goodness of cinnamon spice just seems to usher fall right in. This bubble tea is a guilty pleasure that's so delicious, you'll almost feel like you should be hiding to drink it and that's not a bad idea because some things are too delicious to share.
So curl up in your favorite chair, grab a good book, and toss a warm, soft blanket over you. This amazing cinnamon boba milk tea is what fall is all about so…indulge.
Side Note
Before going any further though, it's important to note that what you put into your boba teas are what you'll get out of them. Using the finest ingredients will render a magnificent beverage whereas using not-so-great ingredients will deliver a so-so drink. It's your choice, of course.
Cinnamon comes from the cinnamon tree which grows a whopping 60 feet high. It is a spice that has been around for about 4,000 years. The spice became so popular and abundant in Ceylon, a war was started over it in the 17 th century. Today, cinnamon is all about peace and calm. It is also appreciated for its medicinal properties as it reduces inflammation and treats nausea and colds. Look for high-quality cinnamon sticks and powders to ensure you are getting the best because yes, there is a difference.
Drinking (not tap) water
Whole sticks of cinnamon (ground will do in a pinch)
Earl Grey tea
Milk (whole milk, soy milk, coconut milk, oat milk, almond milk, or half in half)

Sweetener to taste such as sugar, maple syrup, honey, or Stevia
¼ teaspoon vanilla extract
Nutmeg to taste
Tapioca pearls
Optional – a pinch of ginger, cardamom, nutmeg, or cloves to add an interesting twist
Milk froth or boba tea powder
Instructions
1. Prepare the pearls and set aside.
2. Bring water and cinnamon sticks to a boil in saucepan.
3. Add tea bags and steep.
4. Heat the water. Steep the tea for seven minutes.
5. Stir in maple syrup, nutmeg, and any other spices you'd like.
6. Pour tea in a cup over boba balls.
7. Garnish with cinnamon sticks (use new ones if you'd rather).
8. Enjoy!
Awesome Autumn Bubble Tea
Welcome in the season with this awesome Autumn Bubble Tea drink that's as crisp and refreshing as Fall itself. Snuggle up with all your favorite harvested flavors like maple and brown sugar with a hint of nutmeg and allspice. This delightful bubble tea is warm and cozy, perfect for some quality "me time". Grab a spoon because you'll need it for this creamy, dreamy drink.
Side Note:
Allspice is a spice many mistakenly think is a mix of spices when in fact, it is a spice all its own. It is the un-ripened, dried berry of the myrtle-pepper tree or pimento that is native to Central America and Jamaica. It goes wonderfully in Fall dishes such as beverages and desserts.
Nutmeg grows on nutmeg trees. The part we use as the spice "nutmeg" comes from the inner seed of the fruit. Nutmeg is such an excellent seasoning; it was used in the 1800s in England much like we use ground pepper today. Nutmeg is a quintessential Autumn spice that is often found in fall beverages. Look for nutmeg that's specially grown in its Moluccas, Malasia.
Ingredients
Drinking water
Jasmine green tea
¼ teaspoon allspice
¼ teaspoon nutmeg
½ cup brown sugar
2 tablespoons water
Brown sugar
Tapioca pearls (as desired)
2/1/2 cups whole milk
½ cup heavy whip cream
Instructions
1. Prepare the pearls and set aside.
2. Whip cream until frothy and thick then set aside.
3. Boil the water in medium sized saucepan.
4. Steep the tea for 7 minutes.
5. Add allspice and nutmeg.
6. Set tea mixture aside.
7. Mix brown sugar and water and set aside.
8. Place pearls in cups.
9. Pour milk over pearls
10. Pour cream over milk.
11. Add the spiced tea mixture as desired.
12. Gently stir in the brown sugar mix.
Perfect Pumpkin Spice Boba Tea
The "pumpkin spice craze" began in 2015 when a group of young Americans discovered what older Americans already knew…pumpkin pie spiced drinks are amazing. The fad is still trending and shows no signs of ever stopping. This Perfect Pumpkin Spice Boba is one of the best Fall drinks ever.
Side Note:
Pumpkins are what Fall is all about. They are excellent in pies, desserts, and beverages like boba tea. They also serve to make Jack-O-lanterns out of and are the centerpiece for Autumn table decorations. You may think of pumpkins as a fruit but they are not. Pumpkins are fruit. They contain 90% water and tons of nutrients, especially vitamin A.
Ingredients
Tapioca pearls
½ cup of drinking water
3 Black tea bags
1 cup of whole milk
2-3 Tablespoons of pumpkin puree
¼ - ½ teaspoon pumpkin spice
½ teaspoon vanilla extract
Honey, sugar, brown sugar, Stevia, or sweetener of your choice to taste
Instructions
1. Prepare the pearls and set aside.
2. Boil the water and steep the tea for 5 - 8 minutes.
3. In a bowl, combine the milk, pumpkin puree and spice, and vanilla extract.
4. Whisk the bowl ingredients then heat for one minute.
5. Assemble drink in a large bowl or jumbo cup then add sweetener and boba.
6. Stir well and serve warm.
7. Enjoy!
Recent Post